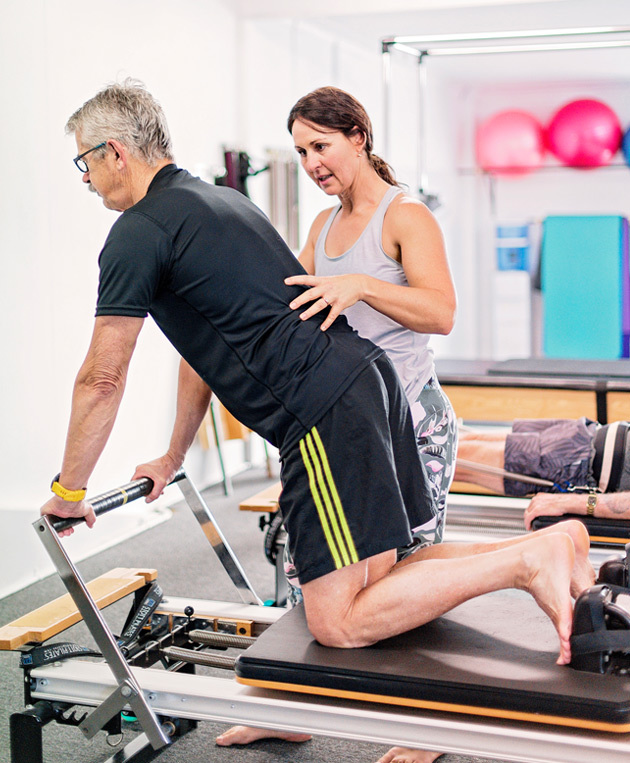 At Core Condition Pilates and Massage Studio (CCPMS) we have a variety of sessions to offer you. Some sessions may be more appropriate than others. By talking with us we can guide you into the session that will benefit you the most.
We offer –
Private sessions
Duet sessions
Studio sessions – these consist of a maximum of 4 clients to 1 instructor
Mat class – max of 8 clients
Reformer class – max of 3 clients
We set our standards high to offer personal programs for every client who takes part in private, duet or studio sessions. Prior to all small group sessions you will attend a series of initial private consultations which provides opportunity for assessment as well as exposure to programming.
SPECIALITY CLASSES
Joint Health for Osteoporosis & Arthritis
The Buff Bones® workout uses varied and specific bone-strengthening and balance techniques for a safe option for people with osteoporosis and arthritis. Combining Pilates, strength training, functional movement and therapeutic exercises, Buff Bones uses techniques to align the joints, enhance posture and balance.
Anyone who can get themselves up / down from the floor unaided, and who isn't trying to 'rehab' an acute injury would fit into this class. We recommend people experiencing severe spinal issues to utilise the opportunities available in the studio, duet or private class environments
This style of class is suited for anyone who –
1. Has bone density loss or is looking to take precautions to avoid joint issues or such things
2. Aware of their existing condition(s) an is able to get up and down off the floor unaided
3. Enjoys being lead by an instructor and is willing to be in a group of 6-8 participants
Get Excited

About
Movement